JUNE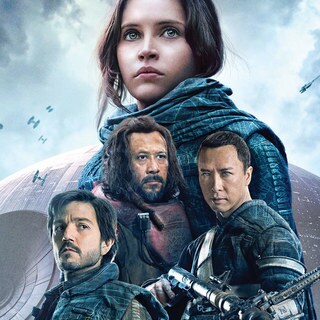 June 2: Watch the movie Rogue One-A Star Wars Story Friday evening from 7-9pm as part of the Movies in The Briar Patch series at the Eatonton Cotton Warehouse. We will watch Rogue One-A Star Wars Story starting at 7:00pm
June 2: Outdoor Summer Concert Series. Kick Off your Dairy Festival weekend with some live music on the Plaza Lawn. Starting at 7:00pm, you'll be MOOvin' to the sweet sounds of the one and only Moody band from Atlanta. They will be playing a wide variety of top-40 current music with a heavy dose of nostalgia from the '80s and '90s.Tickets are only $10 or buy a package deal for all three shows for just $25. Bring your lawn chairs, blankets, and beverages, and we'll have some delicious BBQ for sale. Sponsored by Farmers & Merchants Bank.  Click here for tickets.
June 3: Putnam County Dairy Festival. This year's dairy festival will be held on Saturday, June 3, 2017 on the streets surrounding the Putnam County Courthouse. Hosted by the Pilot Club of Eatonton, GA, the annual Putnam County Dairy Festival is an exciting day for the whole family and a tribute to the dairy industry. The day starts with the Torture Trail 5k (a Peachtree qualifier) and a parade. Children can enjoy the carnival games and livestock displays, while adults roam through the craft booths lining the downtown streets. Visit www.putnamcountydairyfestival.com for more information and a timeline of events.
June 3: Matt Rogers CD Release Party. Matt Rogers will be joined by Nashville recording artists Heath Deloach and Laughlin for a night filled with music and fun. The concert begins at 7 PM at the Eatonton Cotton Warehouse at 118 North Jefferson Ave. in Eatonton, Georgia. General Admission ticket holders can begin arriving at 6:30 when the doors open.
June 23,24,29,&30: PAPA presents, The Man with the Plastic Sandwich, an adult comedy, by Roger Karshner. Directed by Sarah Daly Weir and Produced by Special Arrangement with Samuel French. Inc. In this three-act comedy, full of adult humor, we're introduced to Walter, an unemployed engineer that is struggling with the grim prospects of his career. The story takes place on a park bench where three interesting characters spark conversations that provoke Walter into thinking about his life and his career in a new and different way. Show times Friday and Saturday, June 23 & 24 and Thursday & Friday, June 29 and 30 at 7:30 PM. Only $10 for general seating or $15 for reserved seating. Click here for tickets.
JULY
July 8: Meet Me At The Plaza Summer Concert Series.- Come hear Kurt Thomas from 7-10pm at The Plaza Arts Center front lawn. This Dahlonaga, GA native has recorded 4 CD'd and opened for some of the biggest names in country music including Kenny Chesney, Brooks&Dunn, Darius Rucker, Zac Brown Band, and Josh Turner. Tickets are only $10 or buy a package deal for all three shows for just $25. Bring your lawn chairs, blankets, and beverages, and we'll have some delicious BBQ for sale. Sponsored by Farmers & Merchants Bank. Contact The Plaza for more information.  Click here for tickets.
July 22: The Suggins Brother in Concert Feat. Piney Woods The Suggins Brothers bring their special brand of Bluegrass to the City Center Stage in Downtown Eatonton at 124A N. Jefferson Ave. behind the Eatonton Cotton Warehouse.The Concert will be held on Saturday July 22 at 4 p.m. and will end at 8 p.m. Piney woods are their special guests and refreshments and snacks will be provided by DD's Shaved Ice.
If we are experiencing inclement weather, the concert will be held in the Plaza Arts Center auditorium located at 305 N. Madison Ave, Eatonton.
July 28, 29, 30: "A Chorus Line." Presented by the Putnam Alliance for the performing arts,  A Chorus Line is a musical with music by Marvin Hamlisch, lyrics by Edward Kleban and a book by James Kirkwood, Jr. and Nicholas Dante. A Chorus Line examines one day in the lives of seventeen dancers, all vying for a spot in the "chorus line" of a Broadway musical. Call The Plaza Arts Center for ticketing information at 706.923.1655.
July 29: Hometown Hope Jam Feat. The Swingin' Medallions Join the Ethen Richardson foundation at the Eatonton Cotton Warehouse for this awesome party with a purpose! Come early for the Meet & Greet with the band. Enjoy the music of local artist, Joey Vargas. Check out the table decorating contest and join in on some fun raffles. Cash bar and doors open at 7:00 pm. Make sure to bring your dancing shoes – The Swingin' Medallions start rocking the stage at 9:00. Purchase Tickets Here
AUGUST
August 12: Back to School Celebration & Movie Night Friday from 5:30-9 p.m. at The Putnam County Recreation Department. Come out to the park for a movie and also enjoy a car show, fun bounce houses, games, and much more! The Movie will start at dark. Monster Trucks is great movie to enjoy with your family. We will have popcorn, and drinks for sale. To put your car in the Car Show there is a small fee!
August 12: Meet Me at The Plaza Summer Concert Series. The series finale will bring you Good Vibrations from 7 – 10 pm on Saturday, August 12. Good Vibrations is a local favorite playing hits from a variety of music genres. They are sure to spice things up with a little bit Rock & Roll, a splash of Motown, a dash of Disco, copious amounts of Classic Rock, and a pinch of Oldies. Tickets are $10. Bring your lawn chairs, blankets, and beverages, and we'll have some delicious BBQ for sale. Sponsored by Farmers & Merchants Bank. Click here for tickets
August 26: The Jake Barley Band One of the most highly sought after and hard working bands in the Carolinas! The Jake Bartley Band delivers a unique and progressive blend of rock, country, soul, Jazz and blues and they are coming to the Eatonton Cotton Warehoue. VIP seating available. Click here for tickets
Special Guests: Ill Wind and Joey Vargas
August 26: Hot August Night at the Museum Come out to the "Hot August Night at the Museum" free concert and parking lot party on Saturday, August 26th from 7-10 p.m! This "sock hop" style concert will feature the Blind Driver Band as well as an Elvis impersonator! Bone Island Grill will also be selling food on location. Bring all of your friends for one unforgettable night!
SEPTEMBER
September 20: Century on Broadway Come enjoy a delightful evening filled with award winning Broadway vocalists Doug LaBrecque and Christiane Noll. Hear your favorite show tunes from the last 100 years on Broadway! Tickets go on sale to members July 10th and the public July 17th!
September 23 – October 6: Duel Vision: Art Through Different Eyes will be held at  The Artisans Village Art Gallery – 110 W. Marion Street, Eatonton, GA. The show will feature Artists' Creations inspired by Photography.
September 30: Briarpatch Arts & Crafts Festival The Briar Patch Arts, Crafts and Antiques Festival is an annual downtown Eatonton event now in its 7th year hosted by Eatonton Main Street on the Putnam County Court House Lawn. Come stroll the streets of historic downtown Eatonton and enjoy talking, shopping, food and entertainment. All our artists sell one-of-a-kind items.
If you would like to become a vendor please either email andrew@eatontonmainstreet.com or call 706 749 9150.
OCTOBER
October 2: Taste Of Eatonton from 6:30pm-8:30pm, ticket holders are invited to taste local restaurants' specialty food items complimentary. With a cash bar and silent auction available, this is a local favorite.
October 21: The Artisans Village Annual Benefit Concert will take place at the City Event Stage – Behind the Cotton Warehouse, downtown Eatonton
October 27th: Halloween Fest from 7:00-9:00pm, come participate in the costume contest (all ages welcome) by showing off your most creative costume ideas at the Eatonton Cotton Warehouse. Also, Watch Fantastic Beasts and Where to Find Them as October's Movie in the Briarpatch. 
NOVEMBER
November 4 – 17: The Lake Country Fine Arts Show will be held at The Artisans Village Art Gallery – 110 W. Marion Street, Eatonton GA. Call for Artist – June 1 – August 31, 2017. To register go to theartisansvillageguild.com click on events
November 25: Small Business Saturday. Shop local and support your downtown merchants
DECEMBER
December 2: Putnam General Hospital's Breakfast With Santa, which will include a Holiday Themed Breakfast; Pictures with Santa; and the Secret Santa Shop!
December 9: Christmas in the Briar Patch- The Arts and Crafts Bazaar will be held in the Eatonton Cotton Warehouse at 118 N. Jefferson Ave in downtown Eatonton from 2pm to 7pm. The Light Up The Night Christmas Parade will start at 6pm. Photo opportunities with Santa and Mrs. Claus in the Gazebo on the Putnam County Courthouse Lawn will take place after the Parade. The Gazebo has been kindly donated by Outdoor-Options which you can find at 995 Milledgeville Road Eatonton GA. You can call them for all your outdoor needs at 478 746 0001.